"The Tour of the TAP", in association with Inchcape UK, has been conquered! Chief Executive James McLaughlin has successfully completed all 12 legs of 2022 The Tour of the TAP challenge, and all that's left is the small task of completing the London Marathon on Sunday.
Not set with "just" running 14km around each of the charity's Trial Acceleration Programme (TAP) centres across the UK, his attentions now turn to this weekend's London Marathon on Sunday 2nd October, just over a week after completing the final leg of his Tour – so rest for the wicked!
The feat has seen him putting his body through pain to run over 100 miles (including 200,000 steps!) across a two-week period, before heading back down to London to tackle the world's most famous marathon – all to raise important funds for the 12 UK blood cancer centres that the charity supports.
An emotional and overwhelmed James received a rapturous reception as he completed his challenge in Southampton. The team at the Southampton came out in their droves to welcome him home.
It was a bittersweet moment for the Chief Executive as he passed the finish line, with the Marathon looming in just over seven days time (when he completed the challenge).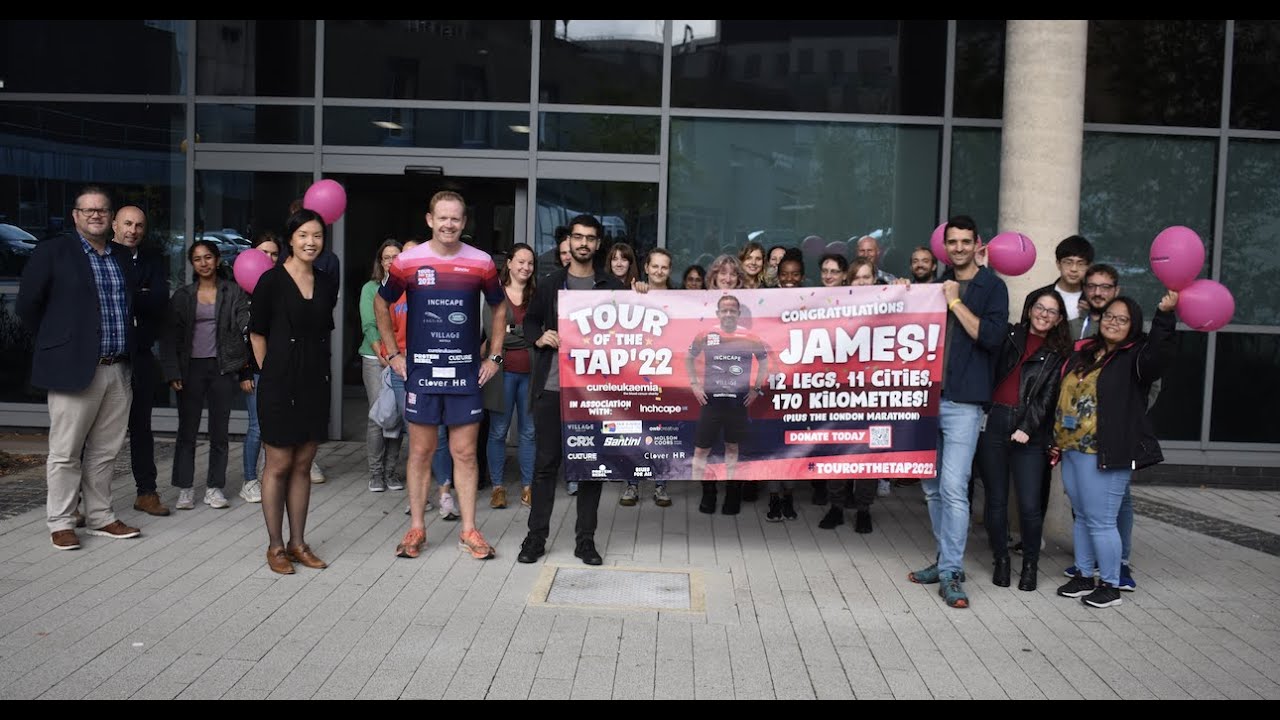 "Running into Southampton today, you get quite emotional. It is a bit of a weird treadmill for the past 10-12 days as it is back-to-back and pretty relentless. Coming into the final bit you are happy it is finished, but in a way, it is a strange feeling. To have such an amazing reaction from people to come down and welcome you is pretty humbling."
"The thing this trip always does for me is brings home the reality of how horrible this disease is, but also the fantastic positives that are happening due to the investments into the Trials Acceleration Programme. That's why we are urging people to help us get to that £25,000 mark."
We were thrilled to be joined by additional runners over the course of the 14 days, which included Clinicians and Research Nurses from our various TAP Centres, The Tour 21's Allan Dickson guided James through Glasgow, 2022 #TeamCL London Marathon runner Matt Shilvock joined in for several stages, while we received fantastic support from headline sponsor's InchCapeUK at their various showrooms across the route.
1
The event has raised over £50,000 from the past two years to fund the charities TAP Network and he is aiming to bring his combined fundraising total for the event to over £100,000.
The TAP Network that Cure Leukaemia provides funding to consists of a network of specialist CL Research Nurses based in 12 of the UK's biggest cities and a facilitatory Hub at the Centre for Clinical Haematology (CCH) in Birmingham.
The CL Research Nurses across the UK and the co-ordinating Hub allow these trials to run, giving patients from a catchment area of over 20 million people access to potentially life-saving treatments not currently available through standard care.
He is appealing to the Cure Leukaemia family to join in at home to help contribute towards his fundraising goal.
Whether it is running 14 km yourself in your own time, challenging yourself to complete 14 press ups a day for 14 days, eating 14 hot chillies, wearing 14 jumpers for the day or walking 1.4km a day – the possibilities are endless and the wackier the better!
All donations will make a huge difference to, not only beating last year's £30,000 total, but raise vital funds for our Trial Acceleration Programme.
James has visited the following cities as part of the Tour:
09/09/2022 – Guy's and St Thomas/Kings, London – COMPLETED
09/09/2022 – UCLH, London – COMPLETED
12/09/2022 – Birmingham – COMPLETED
13/09/2022 – Nottingham – COMPLETED
14/09/2022 – Manchester – COMPLETED
15/09/2022 – Sheffield – COMPLETED
16/09/2022 – Leeds – COMPLETED
19/09/2022 – Belfast – COMPLETED
20/09/2022 – Glasgow – COMPLETED
21/09/2022 – Oxford- COMPLETED
22/09/2022 – Cardiff – COMPLETED
23/09/2022 – Southampton – COMPLETED
02/10/2022 – London Marathon – LOADING
It is not too late to be in with a chance to win a half-day off-road driving experience courtesy of headline sponsors, InchCapeUK.
So far, James has currently completed 211,617 steps, but how many will he do in total by the end of The Tour of the TAP 2022 AND TCS London Marathon combined?
The winner with the closest guess will win the prize! Simple as that!  
To enter, follow these steps below:
1. Donate £14 on The Tour of the TAP Just Giving page
2. Enter your guess in the message box
The winner will be contacted on week commencing 3rd October 2022.