"The Tour of the TAP", in association with InchCape UK, is back and bigger than ever before as Cure Leukaemia Chief Executive, James McLaughlin, leads the charity's upcoming fundraising during Blood Cancer Awareness Month in September by once again lacing up his running shoes for his biggest challenge to date.
Across 10 gruelling days, Cure Leukaemia Chief Executive James McLaughlin will look to complete his BIGGEST ever Tour of the TAP to raise funds for blood cancer patients across the country. With the Trials Acceleration Programme (TAP) recently expanding to 15 centres, James will now be completing FIFTEEN 14km runs around these centres, with several days seeing him complete two legs of his challenge.
The feat will see him run over 200 kilometres in just ten days with no rest days in between! – the equivalent of TEN half marathons across the challenge.
James has raised over £75,000 over the past three years to help fund the charity's TAP Network and he is aiming to bring his combined fundraising total for the event to over £100,000.
The Cure Leukaemia Research Nurses across the UK allow clinical trials to run, giving patients from a catchment area of over 30 million people access to potentially life-saving treatments not currently available through standard care.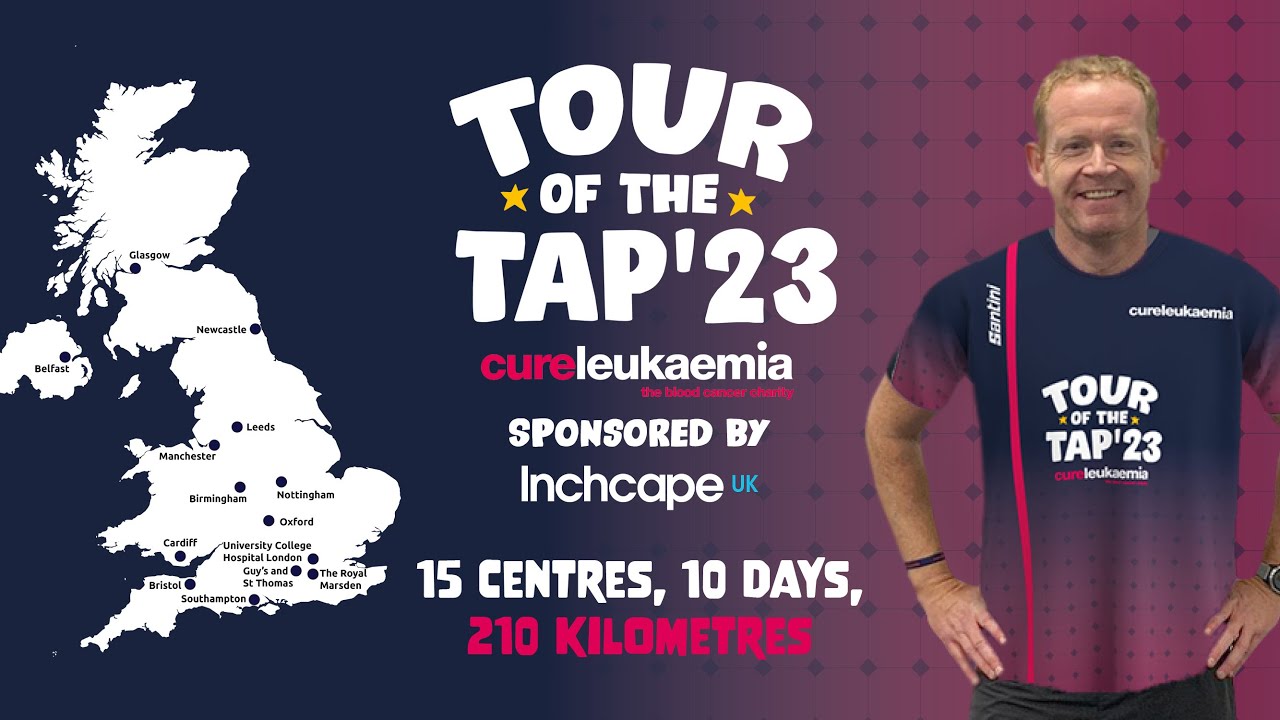 James will begin his challenge at Belfast City Hospital alongside the cycling equivalent of the event, spearheaded by former England footballer and Cure Leukaemia Patron Geoff Thomas MBE, on Wednesday 13th September before working his way across the country, culminating in a final leg finishing in Birmingham on Friday 22nd September.
Speaking ahead of the start of the challenge, James said:
"A person is diagnosed with blood cancer every 14 minutes in the UK so that is why I have decided to again run 14km for patients at each of the 15 blood cancer locations we fund as part of the TAP Network – so there is method to my madness"
"Previously, I have completed 12 lots of 14km around our network, but following our recent expansion, I will now tackle 15 runs with no rest days this time round."
Speaking about the cycling event alongside his annual running challenge, James explained:
"I think it is the natural progression to have the cycling version running alongside mine. They will be taking on 1,000 miles across 10 days and I look forward to joining them on the start line in Belfast with us all aiming to arrive back into Birmingham ten days later".
"I'm on the lookout for businesses across the regions to get involved and sponsor me along the way to help me reach the magic £100,000 mark."
1
He is appealing to the running community to join him at various stages throughout his tour or challenge themselves at home to help contribute towards his fundraising goal.
"It would be fantastic to see the CL family engaging with the challenge. We have had a lot of interest in joining me for a run on one of the stages as I work my way across the country."
"All donations will make a huge difference to helping us pass the £100,000 from the event over the past three years, but raise vital funds for our Trial Acceleration Programme. We had some great support from the Clinicians and Nurses last year and it is the perfect opportunity to get involved and do something for Blood Cancer Awareness Month"
James will visit the following cities as part of the Tour:
Wednesday 13th September – Belfast City Hospital (Belfast)
Thursday 14th September – The Beatson West of Scotland Cancer Centre (Glasgow)
Thursday 14th September –    The Freeman Hospital (Newcastle)
Friday 15th September – The Royal Marsden (Surrey)
Saturday 16th September – UCLH (London)
Saturday 16th September – Guy's and St Thomas' / Kings College Hospital (London)
Sunday 17th September – University Hospitals Southampton (Southampton)
Monday 18th September – Bristol Haematology & Oncology Centre (Bristol)
Monday 18th September – University Hospital of Wales (Cardiff)
Tuesday 19th September – Churchill Hospital (Oxford)
Wednesday 20th September – The Christie NHS Foundation Trust (Manchester)
Wednesday 20th September – Manchester Royal Infirmary (Manchester)
Thursday 21st September – St James University Hospital (Leeds)
Friday 22nd September – Russell Centre for Clinical Haematology (Nottingham)
Friday 22nd September – Centre for Clinical Haematology (Birmingham)