A dad from Caterham completed his biggest fundraising challenge to date this week to help launch a paediatric trials network for kids living with blood cancer across the UK, alongside Cure Leukaemia.
Matthew Gaut tackled over 250 miles across five days as he ran from London to Paris with a bold and ambitious fundraising target of £100,000 – a target which he passed moments before completing his emotional final run, in front of the Eiffel Tower on Sunday afternoon.
After completing the charity's London2Paris cycle last year (including running the first 65-mile stage on foot), he was inspired to go to extreme lengths to help launch a pioneering trials network to connect kids with potentially lifesaving treatments.
Matthew started his run in Greenwich Park on Tuesday evening, as he ran through the night to finish in Folkestone on Wednesday afternoon. Across the channel in France, Matt battled thirty-degree heat, sore legs and countless blisters as he completed the equivalent of nine and a half marathons over the course of the five days. At its peak, he covered seventy miles in a single day – a feat which saw him on the road for over fourteen hours.
In total:
Matt ran for 52 hrs and 5 minutes,
Covered 449,555 steps, 
Burned 23,811 calories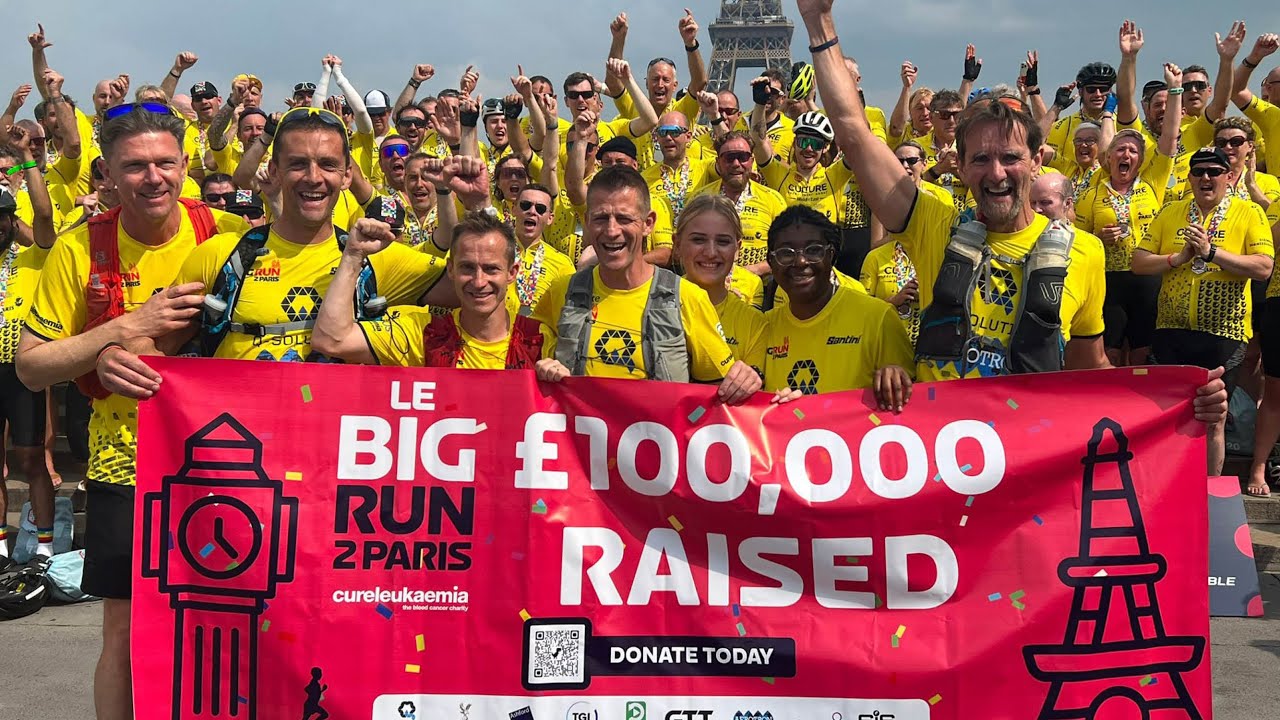 He was assisted throughout the challenge by a team of four support runners which included Matt's brother, Simon, who travelled from Australia to run with Matt, and Harry's Godfather, Kevin Hoskins, with each runner taking it in turns to run alongside Matt for the entirety of the challenge.
He was given a hero's welcome as he completed his epic challenge by over 160 cyclists all raising funds for the charity, who cycled the route a day behind Matt- along with his wife, Debbie.
Speaking about the emotional finish on Sunday afternoon, Matthew said: "If I'm completely honest with you, I think I'm still in shock. I always thought that I would do it but now that it's done, it's a case of thinking "Wow, did that really just happen?" I'm honoured to be able to have had the opportunity to do something that I'll never do quite like that again."
"We're all delighted that we've done it and we're absolutely delighted that we have been able to do it for an incredible charity for all of the right reasons."
1
Matthew is raising funds on behalf of his son, Harry, who tragically passed away in 2016 just eight days after his 6th birthday. Harry was diagnosed with Acute Lymphoblastic Leukaemia (ALL) in 2013 at only two years of age. Following the diagnosis, he bravely underwent over three years of treatment before entering into remission.
In 2016 he developed Myelodysplastic Syndrome (MDS) which cruelly progressed and developed into Acute Myeloid Leukaemia (AML), with a Stem Cell Transplant offering the only hope. He fought like a lion but sadly reacted to the stem cell transplant unfavourably and tragically passed away on 21st September 2016 at St George's Hospital, Tooting. On the morning of his passing, the family went back to the Royal Marsden in Sutton where his bed was waiting for him. None of the hospital staff expected him not to return.
Matthew commented: "I sat back and there was never going to be anything I could contribute, so you leave it to the experts. I thought "I can't cure it but I can run, so maybe we will try that." Harry is gone but would be proud of what we're doing. If whatever we do benefits one child, then it would be entirely worth it."
Matthew added: "The work that the Cure Leukaemia team are doing is raising vital funds to combat this awful disease. I'm grateful to have found a charity that now feels like an extension of my family. We are now forever entwined, and I will go on doing whatever I can until I draw my last breath."
 "Harry was such a happy, loving and brave little boy who never complained about his illness and we are so very proud of him. No one should have to go through what that little boy endured."
"Despite the incredible advances and research over the years into this cruel disease, it still takes far too many lives – young and old."