Sarah (née Ishman) Hope, 34, who lives in London is training to cycle all 21 stages of the 2021 Tour de France route one week ahead of the professionals this year. The Deutsche Bank employee will be the only female cyclist in the 25-strong Tour 21 team when they begin their epic challenge on Saturday 19th June this summer. The aim of The Tour 21 team is to raise in excess of £1,000,000 for national blood cancer charity Cure Leukaemia with Sarah and her 24 teammates having committed to raising a minimum of £30,000 each.
Cure Leukaemia, which was announced as the first ever official Charity Partner of the Tour de France in the UK in October last year, recorded a £1,500,000 fundraising shortfall in 2020 due to the COVID-19 pandemic. The Tour 21 team, which was increased from 20 to 25 riders after this event's postponement last summer, aim to help the charity address this shortfall in funding by completing all 21 grueling stages of the world's most famous and prestigious professional cycling event, which begins in just over 100 days.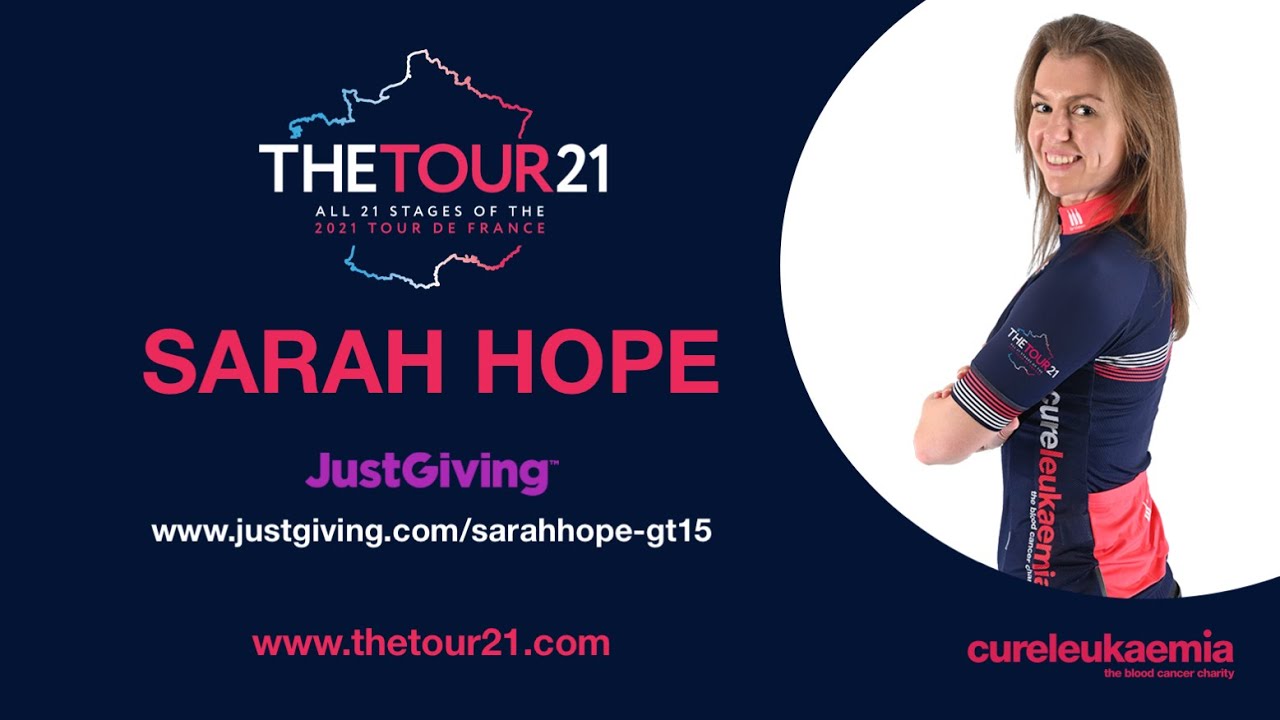 All funds raised by The Tour 21 team will be invested in the national Trials Acceleration Programme (TAP) which has been solely funded by Cure Leukaemia since January 2020. TAP is a network of specialist research nurses at 12 blood cancer centres located in the UK's biggest cities and a facilitatory hub based in the Centre for Clinical Haematology at Birmingham's Queen Elizabeth Hospital. This network enables the accelerated setup and delivery of potentially life-saving blood cancer clinical trials, giving patients from a UK catchment area of over 20 million people access to treatments not currently available through standard care.
Sarah, who grew up in southern New Jersey, studied Economics and Political Science at Columbia University in New York City. She moved to the UK in 2017; and was set to take part in this event in 2020 before COVID-19 meant it was postponed until this year, but Sarah remained committed and determined to take on this epic challenge. Speaking about The Tour 21 she said:
"As someone who has a passion for cycling and a desire to help others it was not a hard decision to make the commitment to this event.
This will be the ultimate challenge both physically and mentally; but knowing that every mile I complete and every pound I raise will have a significant positive impact on blood cancer patients across the UK has been a significant motivation for me."
Deutsche Bank, where Sarah works in the Global Credit Financing & Solutions team, played a major part in the recent growth of Cure Leukaemia through the funds raised by staff in the UK during 2018 and 2019. As one of the bank's two Charities of the Year at that time, Cure Leukaemia received over £2,000,000 over the two years allowing the charity to begin funding the national TAP network. Deutsche Bank's legacy is continuing through this event with Sarah and four other employees of the bank taking on The Tour 21.
Sarah continued: "It was fantastic to see how Deutsche Bank's partnership propelled Cure Leukaemia forward as a charity which is now supporting a national blood cancer network and it's great to have my colleagues Nick Trbovic, Matt Fell, Richard Edghill and Alex McKenna as part of the team this summer."
As the only female cyclist in the team, Sarah is happy to be representing women's cycling and hopes to inspire others to take part in the event in future years.
"I was hoping there might be one or two other women on the team this year but that isn't the case, unfortunately. I really hope that by completing this epic challenge later this year I can pave the way for more female cyclists to take part in 2022 and 2023."
With registration for The Tour 21 now open in 2022 and 2023 via www.thetour21.com, Nicole Perry, who is 29, lives in London and works in Strategy for Virgin Money is already signed up and preparing to take part next year and she is incredibly excited for what lies ahead.
'I am relatively new to cycling having only picked it up in March 2020, but I am absolutely in love with it and can't wait to start training hard for next year and begin my fundraising for this fantastic charity. I am looking forward to getting to know Sarah better over the coming months to get her guidance and advice and I would like to wish her the very best of luck for her challenge this year'